Many children write poetry. Rhyme is fun, having your poem published in the school magazine is even more fun. Teachers and parents encourage children to write poetry, which is good. Of course there's a 'but'.
People have been writing poetry forever. Forget the ancient languages, in English alone, even those who don't opt to study Old English begin by studying Chaucer et al, who wrote almost 700 years ago. When children write about rainy days and their favourite pets, what are they doing to make their work stand out? Why will their work be special? That's what we work with when I conduct poetry writing workshops.
Yesterday's workshop
As we played with poetry, people kept popping in to ask what was happening. A Sunday afternoon at a library meant we had lots and lots of visitors.
Exasperated with the interruptions, the children finally asked me, "Why do so many people want to know what we are doing?"
"Because all of you look excited!" I replied. "If you looked bored or irritated, no one would come."
Two of the children tried to discourage visitors by looking bored. They succeeded for about 30 seconds before they started trying out new funny poems once more.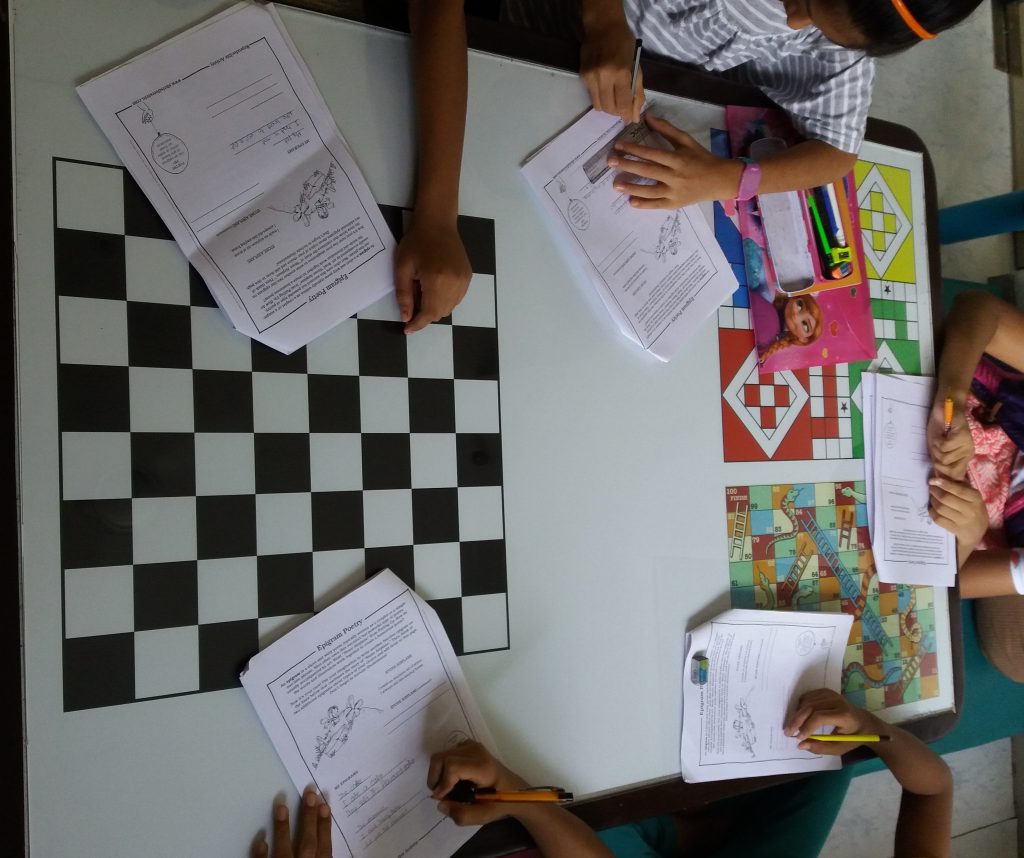 What do I work with?
Reading and writing go together. Especially when I have a small group of children working with me, we have the space and time to share hundreds of ideas and work on them. Among other things, we work on rhyme, rhythm and form.
Rhyme and rhythm
Always learn from the masters. If you want to write in rhyming verse, read rhyming verse – lots of it. I always introduce my favourites to children – Roald Dahl, Julia Donaldson, Edward Lear … Sometimes, when I conduct a workshop at a library, other poets catch my eye too, and we read their poetry as well.
What's the point?
The point is to avoid creating poems that rhyme but do nothing else:
Oh, I have so much honey!
Let me go to the store and buy a big jar of honey.

Do you see what I mean? The more we read, the better we can write.
Form
Playing with different kinds of poetry is wonderful too. I turn to Shel Silverstein over and over again for experiments with form when I work with children. For one, there are wonderful downloadable poetry kits on his website – what more does anyone need? I cannot even remember the number of times I've used his poems. The Giving Tree is an exceptional story, but there's so much more to his work, which is lovely.
Helping children write different kinds of poetry allows all me to explore what is poetic over and over again. Yesterday, we worked with epigrams, concrete poetry, non-rhyming poetry and more, and kept exploring why some epigrams sound like statements, almost scientific, while others are poetic.
Understanding, in whatever way, that elusive quality – "poetic" – I suppose that's what my poetry workshops seek to explore.
Other poetry workshops