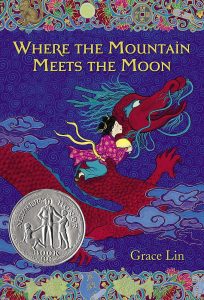 What a truly delightful story!
In the shadow of Fruitless Mountain live Minli and her family. Everything in her village seems grey and dull, except Minli, who sparkles with life. That sparkle is, perhaps, the result of Ba's stories. Night after night, he tells her stories about dragons, the Never-Ending Mountain and the Old Man of the Moon. Ma harrumphs and disapproves, for what use are stories when their fortune will not change? Life is hard and they must strive to make ends meet.
With all the stories she has heard, Minli knows that only one person can help change the family fortune – and that is the Old Man of the Moon. And so, she sets out on a journey to find him. All along the way, she meets different kinds of creatures – a goldfish that can talk, a dragon without wings, a green tiger and more.
Minli's journey is particularly heartwarming because her character is beautifully drawn. We go on her quest with her, marvelling at her bravery and rejoicing at her kindness. Where the Mountain Meets the Moon has all the ingredients of the sweetest of children's tales – laughter, friendship and love. Warmth and hope ooze out of the book, making us read chapter after delightful chapter with a smile.