I don't know a single child who has read and not liked animal stories. I remember Animal Ark. I think of Gill Lewis's White Dolphin. There are hundreds of horse stories that I've read and loved – Stallion Club comes to mind immediately.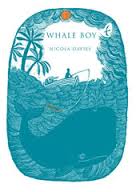 Whale Boy is one of those beloved animal tales.
Growing up in Rose Town, Dominica, Michael learns very early on to manage on his own. His mother was, according to his grandmother, 'not mother material', and abandoned him as a baby. His father went to London in search of her and never returned.
Legend says that there is a place where the waters run deep enough to lose the highest mountain. That's where the whales come – so many that you can walk on their backs.
Yet, sperm whales were the victims of generations of whalers. There are no whales left on the island … or are there? Michael discovers that it may just be dangerous to find out. Befriending Freedom, a young male whale, is the worst thing he could do to the whales. Too late, Michael realises that he is putting the whales, the future of Rose Town and his own family in danger that is almost unimaginable …
| | |
| --- | --- |
| Title | Whale Boy |
| Author | Nicola Davies |
| Genre | Animal Stories |
| Rating (out of 5) | 4 |
| Age-group | 9+ |