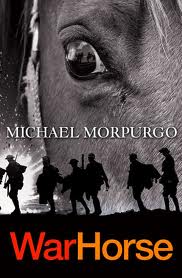 There's something about Michael Morpurgo that haunts me. I remember being blown away by Kensuke's Kingdom. I've read and reread so many of his books. Running Wild, The White Horse of Zennor, Adolphus Tips, and of course War Horse. They come to mind immediately.
This was not the first time I read War Horse.
I was not in a mood to read anything soppy. In fact, I began reading War Horse when I was in a rather cynical mood. I'm not quite sure why.
Despite that, towards the end of the book I found myself smiling because I did not want to cry. I closed the book, closed my eyes and sighed that particular sigh that only a beautiful book can pull out from the depths of your being.
I can't imagine how the movie would be. How can a movie capture the mind of a horse?
I don't think I will ever watch the movie. I've already decided that the book is better.