I'm a slow reader. Despite the fact that I love reading, I take my time over books. Sometimes, I take weeks to finish a book, even one I enjoy.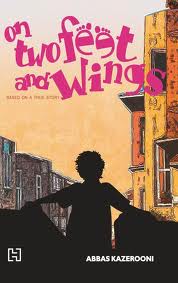 On Two Feet and Wings was not like that.
I would never have expected a book based on a true story to have transported me into a world I do not know at all.
Powerful, moving, pacy – what cliched words these are! But each of them is apt.
I started reading Abbas Kazerooni's story only because someone gave me On Two Feet and Wings for my birthday. When I started reading it, I didn't know what to expect.
But I loved every moment and every page – I'm tempted to say that I loved every word.
The innocence and pathos in the story reached out to me – I haven't been touched like that in a long time.
I saw the dirty alleys of Istanbul, smelled the dank sheets, drank the tea and cringed at the cockroaches in the bathroom. I saw a precocious nine-year-old caught between tears and pride. I felt my stomach clench and my head shake as I realised how little it takes to make a little boy happy, but how easy it is to make the same strong, brave boy cry.
I'm glad it's a book I own. I know it's one I'd love to read again. And then perhaps again even after that.