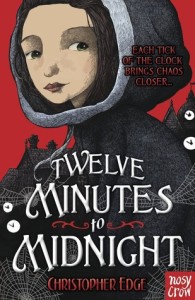 I'm still chuckling as I think about Twelve Minutes to Midnight.
It's been a while since my mind was so absorbed in a book that I kept waiting to get back to it. I even took it with me to school and pored over it. I felt a little like a school-girl, sneakily picking up the book between classes, reading it slyly in the few spare seconds I had, and hastily putting it away deep into my bag.
(Bear in mind that when I was in school, we were not allowed to read books that were not from the school library. A book that did not belong to the school could be CONFISCATED. And then where would you be? Halfway through a story with no idea what happens next, besides being answerable to Mamma!)
When patients in Bedlam start demonstrating an alarming illness at exactly twelve minutes to midnight, it's time for Penny (owner of The Penny Dreadful) to step in!
Accompanied by the loyal Alfie and the cowardly Maples, will Penny manage to save the world? Will she be brave enough to solve the mystery of the madness that has gripped Bedlam?