I'm conducting a storytelling workshop this weekend at the British Library, Pune.
Overview
Every culture creates its own stories: to entertain young children, to teach them, and to attempt to explain the world. Through interactive storytelling, this workshop will give young children a glimpse of different cultures, allowing them to taste a little of the world!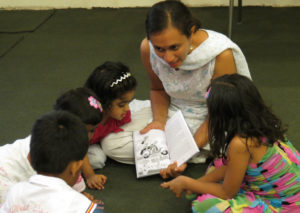 Day One
It's summertime, the best time to explore stories about summer and sunshine! Let's travel to various countries, look at their costumes, and then imagine their stories. Children will enact the story with the storyteller, bringing alive the customs and traditions of each country we visit.
Day Two
What comes after the summer? The rains in some parts of the world; autumn in others! Let's recall  stories of summertime and then look at how seasons change. Finally, the children will be given pictures to colour to conclude their journey around the world!
Details
Dates: Saturday and Sunday, 14th and 15th of May, 2016
Time: 4-5:30
Age-group: 5-7 years
Fee: Rs 1200 for members; Rs 2800 for non-members (includes a gold membership)