Yes, I've written about trams before, in a post with the same name as this.
But how could I go to Kolkata again and not create some more tram memories?
My grandmother often told me about how her father always gave her the fare for first class tram tickets to college and back. Like so many young people, she took a second class ride and used the money she saved to buy little things that young people want but cannot afford.
Now, travelling by tram to work or college is absurd. It takes at least twice as long to commute by tram than by any of the other available options, so really, the tram is just something you experience, rather than something you use.
My flat-mate in Kolkata and I had once spoken about how these anachronistic trams could be retained without much loss to the city.
"They should make a moving cafe and sell it as an experience for tourists," my flat-mate suggested.
I remember being struck by the idea.
Now, there's something coming close to it – the heritage tram!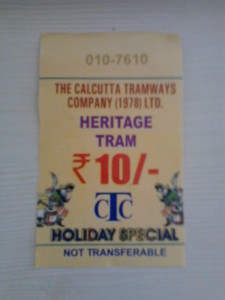 With (slightly) more expensive tickets, the heritage tram offers a comfortable ride – cushioned seats and all. It's a single wagon, not divided into the old time first class and second class. And the inside celebrates (of course) the works of Rabindranath Tagore.
Now, I'm even more justified in insisting that people (even hoity-toity people who would refuse to take a rickety old tram) take the tram as part of the Calcutta experience!