I can't quite believe it's been five years with the Writers' Club at St. Mary's School. I remember we had a maths teacher in class V who had been teaching there for FOUR YEARS. And I thought that it was pretty much forever. I'm there now.
My first batch was created for the sesquicentennial celebrations, and it led to the publication of Flickering Flames.
In the second year, we put together a book of our own, handmade, and we called it The Book that Speaks.
And in the following three years, I held a writing competition, with the results being announced during the very last session. Last year, I also invited a special guest to give away the prizes – and what fun that was.
This year, my batch was particularly enthusiastic and we had not one but two parties – one for Christmas and one yesterday for our very last session. I love how excited all the girls are about the competition results, even those who submitted nothing! Each year, I ask two girls from a previous batch to judge the entries. I provide them with detailed assessment criteria, and they take the process of judging seriously, which makes me glad. Each year, I enjoy reading their comments, discovering yet again how subjective judging is. This time, we had fewer entries than usual, but the results were just as eagerly anticipated. The two girls who won were thrilled; it's grand how important it is to them.
And then, we went back to working on magazines, which is what we have been doing for the last three combined sessions (sessions for which I invite those from previous batches). I was so struck by some of their ideas! For instance, one girl insisted that the inside cover COULD NOT have the credits because it had to have an ad. So, she made an ad and somehow fit the masthead in too. Without that, she was convinced, her magazine would not look authentic.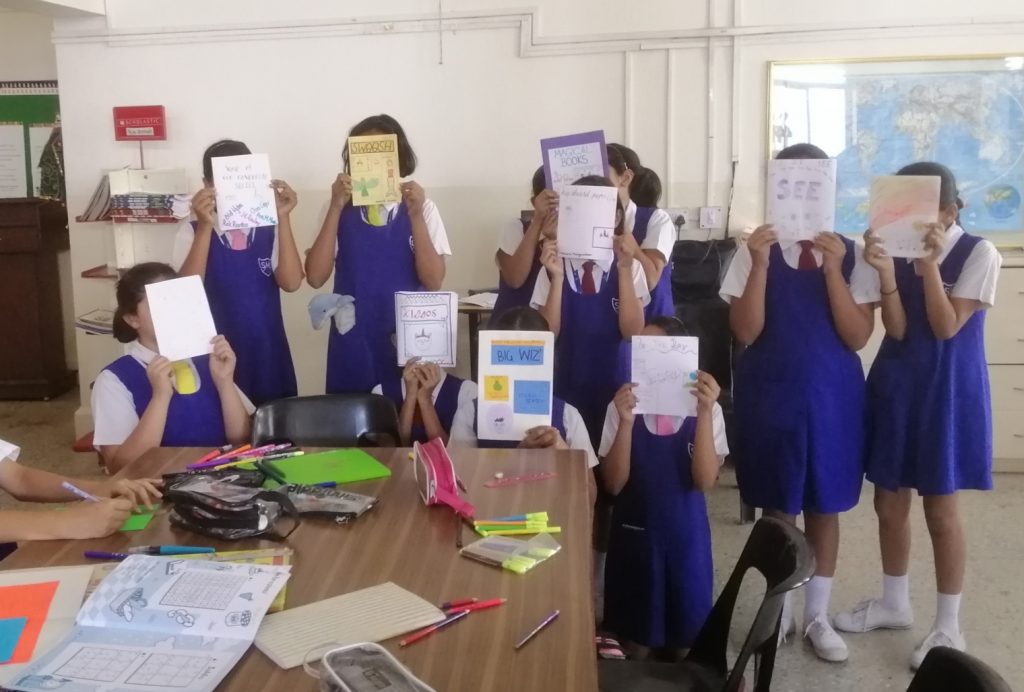 I also realised how disconnected children are from the world of money. For instance, when a pair of them discovered that a magazine has a price marked on the back cover, they wondered whether to put ₹1,500 rupees as their price, only to learn that Champak costs ₹25! They made a joke of it and decided to price it at ₹1,500-million-crore. Which they felt was justified by the amount of work they put in.
We had magazines about dogs, activities, Harry Potter, book series, brands … I was amazed at the number of things they came up with. It took some prodding, of course, used as they are to the idea of making a school project. Some began by choosing topics like 'deserts' and 'temperate zone'. We moved from there to more imaginative ideas, though many magazines were left incomplete. The girls promised to finish them in the holidays – we'll see.
And that's that. Another year of stories, plays and poems comes to an end. Each year brings me so much joy!