I belong to the generation that was addicted to The Lion King video game. I loved jumping on the giraffes' heads, and loved to get the bonus points for a golden lion that did not look like a lion at all. I loved moving from level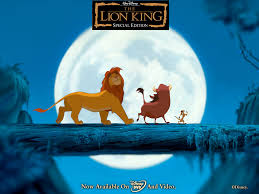 to level of jumping colour.
However, I also belonged to the very small group of children who had not watched the movie. I remember a friend telling me that he had reached the Elephant Graveyard, and it was a very difficult level.
"What elephant graveyard?" I asked.
He looked at me wide-eyed. "The one with the hyenas!"
I did not admit that I had neither watched the movie nor reached that level.
I finally watched the movie yesterday and learned a lot of things.
One, Pumbaa is not a wild boar as I was led to believe. He is a warthog.
Two, the jumping on giraffe's heads is part of a song.
Three, the golden lion that does not look like a lion has a meaning beyond bonus points.
Four, animation has come a long way since the 90s.