Yesterday, when MJ Shubhra asked me to recommend books at the 'Book Club' show, I was tongue-tied, somehow. I could think of nothing. On my desk lay an Eva Ibbotson, so I said 'Eva Ibbotson'.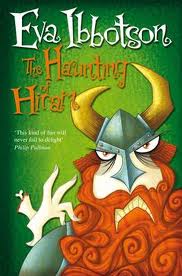 My favourite by her remains Journey to the River Sea, but I've enjoyed everything I've read by her.
The Haunting of Hiram was no different.
It's a wacky book about a Scottish castle, bought by an American millionaire, and transported to Texas. The millionaire has a daughter who has polio, and predictably, the millionaire (the Hiram of the title) wants to protect and mollycoddle her. So, the Scottish castle must, at all costs, be freed of all ghosts.
The book was a light, joyful read. It made me laugh; what more does a fun book need? Ibbotson's imagination always impresses me. It takes courage to write something utterly unbelievable and be willing to be as silly as you like. The Haunting of Hiram somehow finds space for a whole range of things – laughter, disgust and those moral lessons that used to be essential in children's literature but are now so outdated.