"You must read Harry Potter," a friend of mine told me when I was in the eighth standard. I glanced at the book lying on her desk and nodded.
The book she was so impressed by was not yet available easily in India. A relative had given it to her and she was passing it on.
I postponed reading – for an incomprehensible reason that I wonder if anyone would understand. I thought Harry Potter was the name of the writer and I had a deep-rooted prejudice against writers who put their own names in font that is far larger than the name of the book. Who was this Harry Potter who used one-fourth of the book cover for his own name? A lot of writers did that, I knew. I did not like the idea of it at all. I did not want to read this new author, this Harry Potter.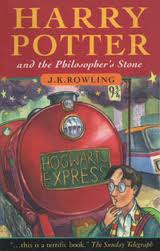 So another friend read it before I did and said to me, "You must read Harry Potter!"
I was curious now, so we spoke a little bit about the book.
"So it's about this wizard called Harry Potter, who-"
"Harry Potter is the name of a character!" I exclaimed. I shook my head, unjustly annoyed at the fact that no one had told me that.
Not realising how much that meant to me, my friend merely nodded and continued to talk about it.
I read it. And all the others that followed.
And somehow, now, I like the old covers a lot more than the new ones, however sophisticated the new ones may be.