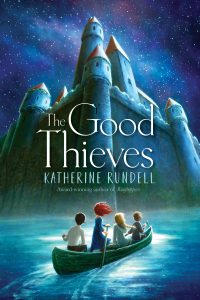 I've said it before and I'll say it again – you cannot go wrong with Katherine Rundell. The Girl Savage, Rooftoppers, The Wolf Wilder, The Explorer, and now, The Good Thieves. I've loved all of them. I love the poetry in the storytelling, the feisty characters and the power of relationships. Katherine Rundell's work just sucks me in each time and holds me in the story until I've read the last sentence.
A rich conman Sorrotore has swindled Vita's grandfather out of his home, an old castle that is falling apart. Sorrotore insists that he bought the castle cheap – he paid 200 dollars for it, and her grandfather's account reflects the payment. Yet, he never sold it. He would never sell something so precious to him, and however pressed he was, he would never sell it for a paltry two hundred dollars.
However, lawyers are expensive and the family cannot afford to fight a long legal battle, so Vita's mother and grandfather have practically given up. Even though Vita and her mother travel across the ocean to New York, it is to bring the old man back and not to save the castle.
But Vita has other plans – and she is every inch a planner. She knows about an emerald necklace hidden in the old castle, which was built brick by brick on a lake by a mad ancestor of hers. Somehow, Vita must get across the wall to the thick, high castle walls. She must cross those walls, get past the guard dogs, break into the castle that is so well protected that it is practically a fortress, get to the hidden safe and retrieve the emerald necklace.
Impossible.
If Vita were alone, that would be true, but with the new friends she makes …?
Silk is a pickpocket and can pick any lock. Samuel is secretly a trapeze artiste who can practically fly. Arkady has a magical way with animals. And Vita, the planner, has courage coursing through her veins.
Together, they embark on a twisting, turning adventure, which nearly goes wrong time and time again. At the end of it all, Vita is asked why she did something so stupid and dangerous. She has no idea how to answer that question, for how can one explain how love works?
A pacy, exciting story, The Good Thieves is a classic tale of adventure and that most beautiful thing of all: friendship.
| | |
| --- | --- |
| Title | The Good Thieves |
| Author | Katherine Rundell |
| Genre | Adventure |
| Rating (out of 5) | 5 |
| Age-group | 11+ |