Torino, the parts of it that we saw from the bus that was not a train, seemed like an interesting city, but not interesting enough for us to change our travel plans. We took from Torino a train to Milano, and we were lucky to get places together. Trains in Italy are a lot more like trains in India, in terms of the number of people. Soon after we left Torino, there were even people standing.
We reached Milan and we were flooded with memories. I've written already about how we went back to the counter for instructions on how to get to the duomo, but I never described the Duomo experience.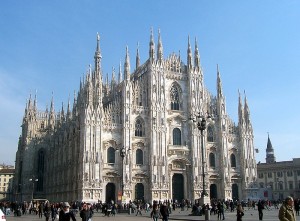 In 2006, when we visited the Duomo for the second time in our lives, we experienced the sublime. The Duomo lifted my soul and made it soar.
I don't know what to say, I've written in my diary, I think part of the charm lies in the fact that even though it is magnificent, it doesn't dwarf you; it welcomes you.
It puts together all my ideas of awe-inspiring, charming and beautiful, and makes my heart catch in my throat.
We went around the duomo and discovered a sign saying that the lift cost €6.
In 2004, we were on a shoestring budget. Frankly, I don't remember seeing an option to go to the top. In any case, I don't know if we would have 'wasted' six euros on going.
It was worth every cent.
We went up and walked on the roof amidst all the spires. All the restoration work was beautifully done, and we stood there, surrounded by the beauty of the duomo, and watched the sunset.
In June, the sun set late, but we did not mind.
We just missed a metro back, risking another night at a station, but we did not mind.
The Duomo surpassed all our mundane problems. It gave us a taste of the divine.