I had just started reading The Bubble Boy, when I came across an article on 'sick-lit', which made me think. There really are a lot of books about children who are ill, but I'd never thought about it in that way. And yes, the idea of the dying girl redeeming a broken man would irritate me.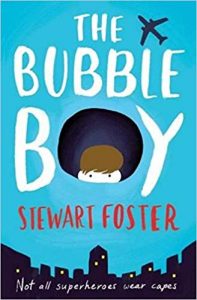 As a result, I was unfairly wary when I got through the first few chapters of The Bubble Boy. I didn't want the emotional manipulation that plays out like a formula in literature where someone may die, and I was more than a little sceptical.
But I said 'unfairly' because The Bubble Boy is nothing like that. For one, it is not YA – the protagonist, Joe, is an eleven-year-old, who is called bubble boy because he is stuck in a bubble – a sterilised, temperature-controlled, heavily monitored hospital room. He has severe combined immunodeficiency (SCID), and cannot ever leave his sanitised room. His sister Beth comes to meet him as often as she can, and he uses Skype to chat to a bubble boy in Philadelphia, Henry. Those are practically his only interactions with people other than his nurses.
And so, those moments become the highlights of his life – conversations with nurses like Greg, and cherished meetings with Beth. Special, exceptional moments are so few and far between that he cannot bear to miss them, even if he knows that if he exerts himself too much, he will fall ill, and never recover.
That is why when a new nurse, Amir, plants the seed of a new idea in Joe's head, possibilities explode. Everything could go wrong, but on the other hand, everything could just go right. Amir – who is so weird that he might actually be an alien – seems so sure that he can make things happen. And Joe, for the first time, has a secret so thrilling that he cannot even share it with Beth.
A lovely story, taking the reader through loneliness, fear, shock and wonder – The Bubble Boy is an affirmation that every eleven-year-old is a superhero. More that that, it is an affirmation that there are more superheroes – selfless, brave and unpredictable – waiting just around the corner.
| | |
| --- | --- |
| Title | The Bubble Boy |
| Author | Stewart Foster |
| Genre | Realistic Fiction |
| Rating (out of 5) | 4 |
| Age-group | 10+ |