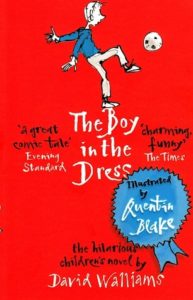 I started reading The Boy in the Dress long ago and never ended up finishing it. I don't know why. Maybe I was in no mood to deal with all the mucus in the second chapter. Or maybe I was just not in the right mood.
I picked up the book again because I watched a "Britain's Got Talent" video and was charmed by the way David Walliams responded to one of the participants – a xylophone player. It made me think that I had to give the writer another shot.
And I'm so glad I did! The Boy in the Dress was simply lovely. Though there were parts that made me suspend disbelief rather too much, I enjoyed the story. More than anything, I loved the tone of the book. The story is so lightly written and the characters emerge so sweetly.
And of course, Quentin Blake's illustrations – when have they not charmed me? As I was reading it, I didn't get the impression that it was a brave book or that it dealt with the subjects of cross-dressing and gender. It read so naturally that it felt as if the book did not have a specific agenda. That made me glad! I felt, Yes, this is the way it could be. This is the way it would happen.