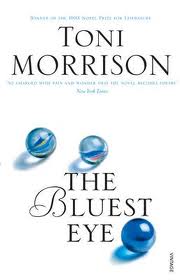 Toni Morrison introduced me to the real horror of slavery. When I read Beloved, I simply could not get over the idea of black slaves being forced to wear the bit. I still cannot get over it.
'Racism', in the way it exists in the west, simply does not exist in India. Sure, we have discrimination, perhaps discrimination of the worst possible kinds. We also have an obsession with fair skin. I like to think that the obsession is on the decline, but I'm horrified by the number of times I come across it in the most casual ways.
The Bluest Eye was another of those eye-openers. A black child, looking at the fact that little blond babies with blue eyes are caressed, loved and cooed over, wishes for blue eyes herself.
The idea of very black skin and very blue eyes is simply appalling.
The child prayed, prayed, prayed for blue eyes. Why? Why did she need them? So that she would be loved? So that people would think she was pretty? Because, finally, the root of love is beauty…? Perhaps, just perhaps… if she was beautiful, maybe people would care about her.
The most stunning part about the book, for me, was the clear-cut aim. Morrison does not at all want you to pity this child who goes mad in her quest for socially accepted beauty. Morrison does not want you to pity the victim of incest. In some ways, she does not even want you to hate the rapist.
She wants you to question the society that created that rapist. She wants you to interrogate the world that creates these misfits. She wants you to turn that questioning gaze onto yourself.
I read the book for the first time over a month ago. I'm still digesting it.