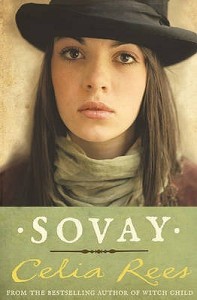 A book that promised to be exciting, I think the best thing I can say about Sovay is that the story made me curious enough to keep reading until I finished the book. As I turned page after page, though, I found myself skipping large sections of the book because I wanted to know how it would all end, and nothing else.
Set in England in the late 18th century, Sovay had all the makings of a wonderful historical novel for children. I loved the atmosphere and choice of character, but the promise of the book remained unfulfilled. Sovay's character, which began with the power of a Georgette Heyeran heroine, was a little disappointing. Rather than emerging as a brave character, capable of saving the lives of ones she loved, Sovay emerged as a rather reckless character, whose plans somehow held together.
Yet, there was something that made me want to read on. The atmosphere and setting were detailed and vibrant, giving me the feel of an inn in London, a street in France and the dreariness of a prison during the Reign of Terror. Sovay is the kind of book that I did not enjoy wholeheartedly, but cannot dismiss either. It makes me want to give the writer another go. Maybe I'll enjoy another book by Rees.
| | |
| --- | --- |
| Title | Sovay |
| Author | Celia Rees |
| Genre | Historical Fiction |
| Rating (out of 5) | 2.5 |
| Age-group | 11+ |