So much to do, so much to read, so much to write! I haven't written my blog for ages because I've been busy writing a brand new series on trains … But more about that when we're closer to the date it's to be launched.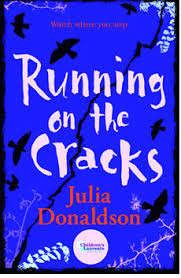 Running on the Cracks made me create a little space in the whirlwind of activity that has made up the last few months. I read and watched The Gruffalo's Child a while ago, and when I saw a book by Julia Donaldson in the library, I had to read it.
And I read on and on.
Moving beyond the 'political correctness' of the way we ought to address the immigrant Chinese population in Glasgow, Running on the Cracks came alive to me at each step.
Leonora Watts-Chan, half-Chinese and half-English, is on the run. Her parents died in a plane crash, and she begins to live with Aunt Sarah and Uncle John. Her cousins tease her about the colour of her skin; in fact, they tease her about everything. But what makes Leo run away is not that. She runs away because she wakes up to find Uncle John looking at her. Just looking. Doing nothing.
Sensitively exploring the way victims blame themselves and keep running away, Running on the Cracks pulled me into a wonderful story that made my heart ache. The story rose from the pages, making me shake my head in helplessness and empathy. I closed the book and I could still see Leonora. I could see how she felt, and understand why she was still inclined to feel that it was she who was to blame for running away …