Review by Samiksha Deshpande (13 years)
The Story-Catcher by Varsha Seshan is a collection of short stories for children. It begins with the introduction of a girl who writes stories of various kinds. I really loved this idea as it brought a slight mysterious touch to the story.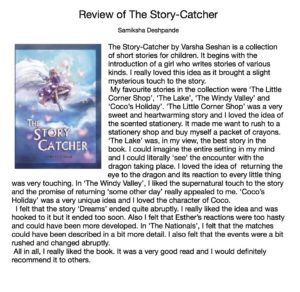 My favourite stories in the collection were 'The Little Corner Shop', 'The Lake', 'The Windy Valley' and 'Coco's Holiday'. 'The Little Corner Shop' was a very sweet and heartwarming story and I loved the idea of the scented stationery. It made me want to rush to a stationery shop and buy myself a packet of crayons. 'The Lake' was, in my view, the best story in the book. I could imagine the entire setting in my mind and I could literally 'see' the encounter with the dragon taking place. I loved the idea of returning the eye to the dragon and its reaction to every little thing was very touching. In 'The Windy Valley', I liked the supernatural touch to the story and the promise of returning 'some other day' really appealed to me. 'Coco's Holiday' was a very unique idea and I loved the character of Coco.
I felt that the story 'Dreams' ended quite abruptly. I really liked the idea and was hooked to it but it ended too soon. Also I felt that Esther's reactions were too hasty and could have been more developed. In 'The Nationals', I felt that the matches could have been described in a bit more detail. I also felt that the events were a bit rushed and changed abruptly.
All in all, I really liked the book. It was a very good read and I would definitely recommend it to others.
Review by Aarmita Khajenoori (Class VI)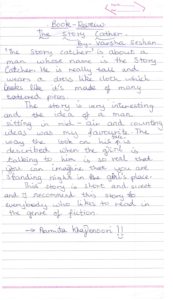 The Story-Catcher is about a man whose name is the Story-Catcher. He is really tall and wears a dress like cloth which looks like it's made of many tattered pieces.
The story is very interesting and the idea of a man sitting in mid-air and counting ideas is my favourite. The way the look on his face is described when the girl is talking to him is so real that you can imagine that you are standing right in the girl's place.
This story is short and sweet and I recommend this story to everybody who likes to read in the genre of fiction.
Review by Arushi Upadhyaya (9 years)
In the wonderful book of "THE STORY CATCHER", there are captivating stories based on fiction, fantasies and real life experiences. In the story "The Mirror", Ruby meets herself beyond the mirror with little silver angels dancing and Ruby imagines – What a wonderland! Kavita in "The Windy Valley" has a terrible morning at home and rushes to the windy valley away from home but after a terrifying conversation with trees, she makes up her mind never to come back. Harshil in the story "The Lake" experiences a cramped car ride and enjoys a beach adventure with a dragon where he helps to find the dragon's eye by mistake. These stories made me feel like I was in a fantasy land.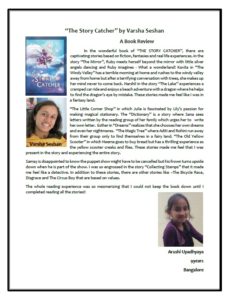 "The Little Corner Shop" in which Julie is fascinated by Lily's passion for making magical stationary. The "Dictionary" is a story where Sana sees letters written by the reading group of her family which urges her to write her own letter. Esther in "Dreams" realizes that she chooses her own dreams and even her nightmares. "The Magic Tree" where Aditi and Rohini run away from their group only to find themselves in a fairy land. "The Old Yellow Scooter" in which Heema goes to buy bread but has a thrilling experience as the yellow scooter creaks and flies. These stories made me feel that I was present in the story and experiencing the entire story.
Samay is disappointed to know the puppet show might have to be cancelled but his frown turns upside down when he is part of the show. I was so engrossed in the story "Collecting Stamps" that it made me feel like a detective. In addition to these stories, there are other stories like –The Bicycle Race, Disgrace and The Circus Boy that are based on values.
The whole reading experience was so mesmerizing that I could not keep the book down until I completed reading all the stories!!
Review by Tanisha Hingorani (Class VI)
"The Old Yellow Scooter", from the book The Story-Catcher, is a story where a girl named Heema goes out with her dad to buy bread, on a yellow scooter. I really like this [story] because it is like a fairytale and like a diary story, it is very interesting and the story is described well. The author shows the story and does not tell it. That is very good thing as it creates a picture in the readers mind and you just feel like reading on. The best part was when the scooter took off into the air. I would give this book 5/5 stars and would recommend it to all children and they should really read it.
Review on Goodreads – by Aditya Sahni
There is something strange about short stories written for children. They seem to exist in a land of sunshine and carefree distraction that we, adults (well we're supposed to be all grown up at any rate), find difficult to inhabit. With The Story-Catcher, I could remember what that felt like. Not with any violence of feeling, thank the gods, but with a smile. The stories in this anthology seems to move in that same sense of time – of somewhere (some-when?) long ago, and yet, somehow, immediate. And, of course, every once in a while, comes a character who completely surprised me (the Story Catcher, for instance). An inspired character; one with an existence beyond the scope of the story. Someone who I could imagine continuing to exist well after I turned the last page. If you know what that feels like, you will agree with me when I say that it's a very satisfying feeling indeed. I could now say something to try and situate this book within the context of Indian writing in English, or more precisely, Indian Children's Fiction, but I don't think I need to. After all, I'm not recommending a good Indian addition to the teeming ranks of the genre (horribly mixed metaphor, that; sorry). And if you wish to read this book (and I highly recommend that you do), don't read it because of its provenance. Instead, read it because it's a good book. And, because, it deserves to be read.
Review on Goodreads – by Nitin Chauhan
If a book written for children doesn't appeal to an adult reader who chooses to pick one and read, I reckon, the book is not too good for children either. The Story-Catcher by Varsha Seshan is a wonderful collection of stories – for children (and in my opinion for adults too). Perhaps the native Indian milieu in these stories made me revisit – and that too vividly – some of the moments which my body, mind and soul have passed through much before today. While I was engrossed with such moments through the words in the pages of this book, a part of me was repeatedly telling me that to re-create instances like these, one must either have a good memory of ones own experiences of the past or perhaps, as they say, the writer must be someone more observant that an ordinary person. But I feel a more fitting explanation is that, perhaps, some one who cares to write something as wonderful and beautiful as The Story-Catcher has to be a child at heart. And apart for the charming stories, I loved to observe the marvellous drawings in the book. I was fascinated by the fact that each of the drawing came very close to what that story was telling. Meticulous care has surly been taken by the artist to draw the word into sketches, as it were. As a child I was often disappointed to see a lot of discrepancy in the books I read between the story and the pictures that represented the story.
Enchantment – underlaid with common sense

This book has seventeen stories for children and covers a wide range of topics and locales. I was impressed with the scope of imagination here, and found the stories absolutely delightful.
Starting with three tales of enchantment which I felt even very young children would enjoy, The Story Catcher goes on to casually introduce respect for tradition, awareness of the scope of the subconscious mind, the relative nature of problems, the different perspectives of parents and children, and other important concepts of life. These are interspersed with liberal doses of wish fulfilment – and also occasional humour which made me giggle.
One of the themes of this book is the overwhelming childhood preoccupation with winning and losing – and I admired the way three of its interesting and well-written stories developed the importance of level-headed thinking and the right values in these areas.
I also admired this author's skill in writing for Indian children – creating the kind of global environment they are more used to in the books they read, while occasionally introducing subtle reminders that they are very much at home.
Saaz Aggarwal – black-and-white fountain
Book Review – by PlainGeets

When my friend first posted about this book on Facebook, I simply "liked" the post. Every Tim, Dick and Harry was publishing a book these days. All you needed was a contact in the right place. Barely five minutes later, I was back on her post. The Seshan family as I knew them were extremely well-read and had an enviable library at home. My friend and her sister Varsha, both prolific readers, both holding a Masters in English Literature were not about to write any of the frivolous stuff some other women I knew had recently published. The book wouldn't have a bright cover page and this wouldn't be " chick lit." And so without wasting another moment or even bothering to read what the book is about, I opened a new tab and promptly placed a order on Flipkart (my second order ever, and interestingly so, the second within a week! Fortunately I prefer visiting bookshops but more about that in a different post). The book arrived a few days later and I opened the package excitedly.
My first thought when I saw the cover was "Brilliant, not chick lit, but fantasy! Oh well, I will read it for N and Varsha." This morning, I picked up the book today for my in-flight reading and didn't put it down for the next 95 minutes. In-flight meals were served, coffee and a muffin was consumed and the book was even decorated with a few crumbs (sorry, Varsha) but I couldn't bring myself to put the book down.
The Story Catcher is a delightful collection of short stories written for children. The book took me back to my Enid Blyton days and left me with the same happy feeling that used to envelop me when I read books like The Wishing Chair and The Faraway Tree. I smiled, chuckled and even pushed away a lump in my throat as I turned the pages, consuming story after story. The Dictionary left me with a warm feeling and an urgent desire to jot down a note in my first French dictionary (handed down to me from my brother who got it from my cousins) even if it is 18 years too late! The Circus Boy left me with moist eyes and a lump in my throat and the last one, The Story Catcher, of course, made me wish I was once again 10 and could naively believe in the existence of the story catcher.
The book is without a doubt brilliant ( and I say this without any bias) and I wish Varsha had found a bigger publisher. Unfortunately the bigger publishers are too busy publishing books about shopaholics and young women searching for their Mr. Right. Varsha's book deserves a position in the pile of recommended books in every Crossword and Landmark of the country (and possible a better cover image too!).
If the child in you is still alive, I recommend you order the book immediately. If not, order a copy for the children you know!