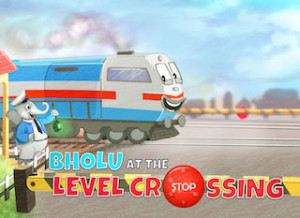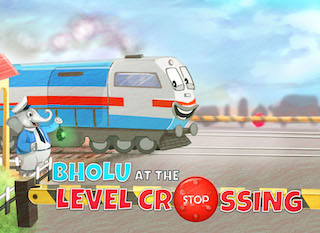 Review by Dr Abhijit Bhograj
I am Dr Abhijit from Bangalore, my daughter Anjana and me had the pleasure of reading your book and I wanted to personally thank you for taking me back to my childhood.
To relive those moments again felt like time travel.
Anjana had lot of learning concepts cleared with your book and is looking forward to her next train journey in the near future. Till then your book helps her to catch the good dreams train.
Review by Kid-Lit INDIA
During the road trips in my childhood, a stop at the level crossing was much looked forward to. Although we'd often be soaked with perspiration seated in the cars while waiting for the train, it took away the monotony of a long drive and made things more interesting.  There was so much to observe around us – vendors selling fresh fruit, corn on the cob or cool cucumber strips, restless children in the car nearby, cyclists who illegally sneaked across the tracks, and more.
Well, here's a story that brought back all those memories…
"Bholu at the Level Crossing" is an enjoyable book to share with children and teach them about types of trains, level crossing rules and safety.  And who could be a better person to do that than a friendly guard elephant named Bholu?
When the Joshi family halts at a level crossing, little Chitra is full of questions about their stop and very excited when she learns that a train is about to arrive.  Though the older children are bored, their excitement builds up when they spot the friendly Bholu who they've heard of before, but never met.    With permission from the parents, Bholu ushers the children towards his cabin where they get a better view of the trains and learn some interesting facts about them.
This is the first book in the Bholu series. Produced in association with the National Rail Museum, India, this is a good introduction to trains and level crossings.
I recommend this book for children 4+years.
The author has several other books to her credit, including more train stories.