Another set of Reading Challenge workshops came to an end yesterday. This time, the theme was 'Record Breakers', and the school that took it on was Cathedral Vidya School, Lonavala. Working with fifteen bright children from classes five to eight filled me with joy!
Lipograms and pangrams brought much hilarity … The activity started in all seriousness and then went crazy as the children let their imaginations go wild.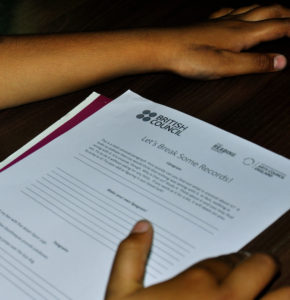 Every one of the participants was enthusiastic – all of them say they enjoyed the challenge!
And, of course, team-building is part of the joy of workshops. How hard they try to finish their activity first!
Another workshop is just around the corner, this time at the British Library, Pune. Click here for details.