The Imagination Box, which I wrote about yesterday, as well as the books I'll be writing about in the days ahead, were part of the Reading Challenge organised by the British Library. As always, I enjoyed myself thoroughly conducting a series of workshops at MGM Clover Dale High School in Aurangabad. The theme for their Reading Challenge was "Record Breakers", and there were record breakers amongst them! A pair of twins read 16 books in the last three weeks because they enjoyed the challenge so much!
The first workshop, for younger children, was a lovely storytelling session. I introduced them to Julia Donaldson's The Paper Dolls. We play-acted, read the story, and then even made the paper dolls as instructed at the end of the book!
The second session was with eight-year-olds who found that they were too old to read the collection for young readers. They chose to read books from the collection for older readers, which in itself was heart-warming for me! This one involved word puzzles and ended with a reading of "The Bicycle Race" from my collection, The Story-Catcher.
Post-lunch, we began with hilarious tongue twisters. That was fun! We stumbled over red-lorry-yellow-lorry and 'tricky frisky snakes with sixty super scaly stripes'. We then had word games and written activities that everyone loved.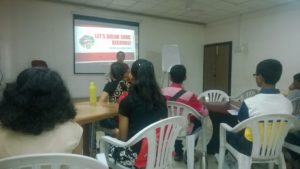 The day ended with lipograms, pangrams and whacky records that the children would like to set. All in all, it was a wonderful day!