Adults love data. They love graphs and statistics and numbers. During workshops with adults, the moment I put up a graph, I have everyone's attention as if I'm finally saying something 'real'.
And that's why I started working with real-time polls through Mentimeter. I show my audience a question and all those with smart phones (usually nearly everyone in the room) vote. And they see numbers, which makes everyone happy.
Question One: What do you read most often?
For this question, I allow participants to choose more than one option. This helps them feel comfortable, not pinned down to choosing one and being 'wrong'.
I give them four options:
Blue – Newspapers, magazines, etc.
Yellow – Facebook/WhatsApp posts
Green – Storybooks
Red – Other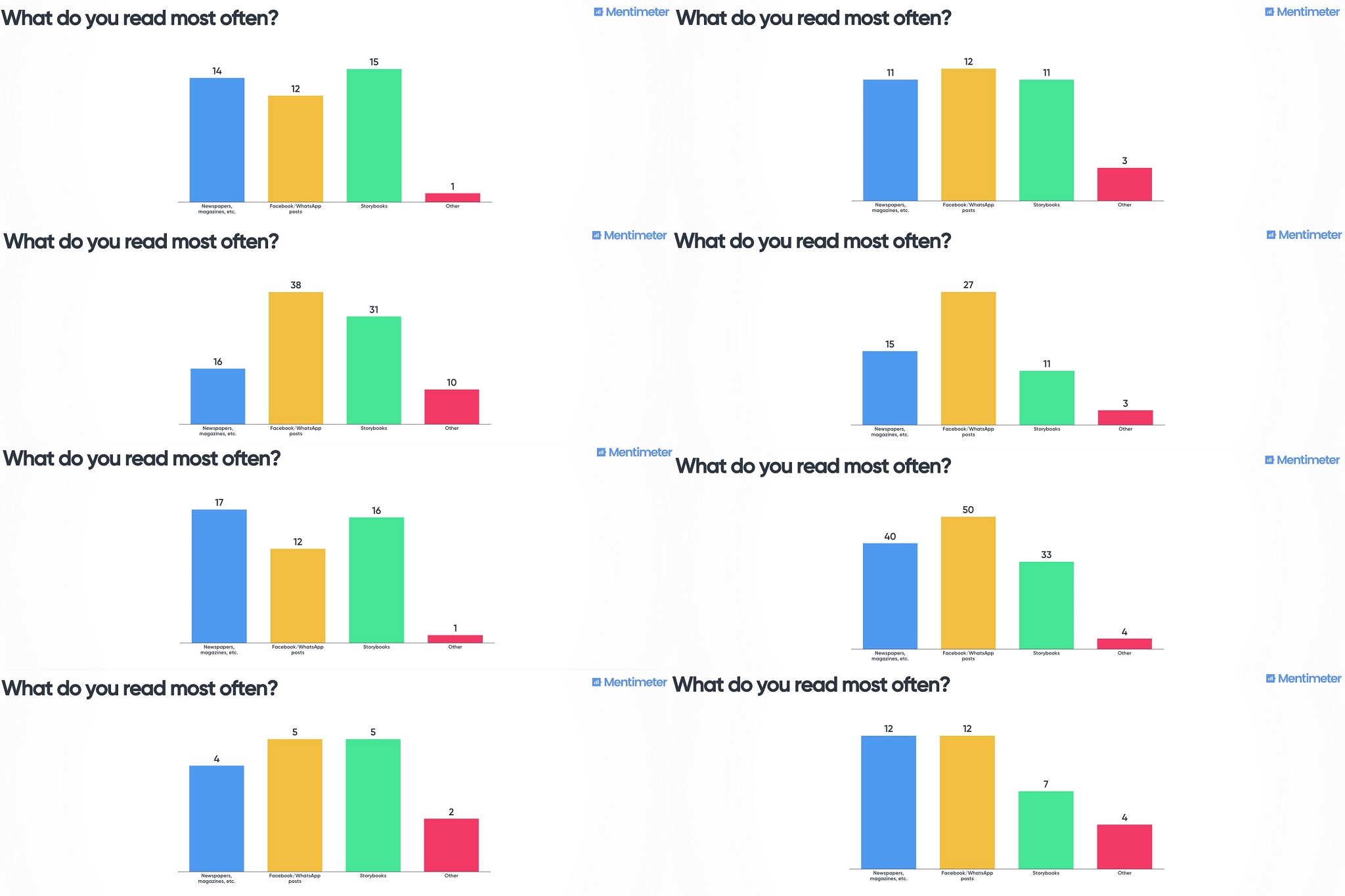 As you can see, there's nothing really, solidly conclusive about this. Yet, on the whole, have a look at this graph, which combines the results.

So, after this, it's time to go to the next question.
Question Two: Why do you read?
For this question, I allow them to choose just one option. Once more, we have four options:
Blue – To gain knowledge
Yellow – For entertainment
Green – To improve language skills
Red – Other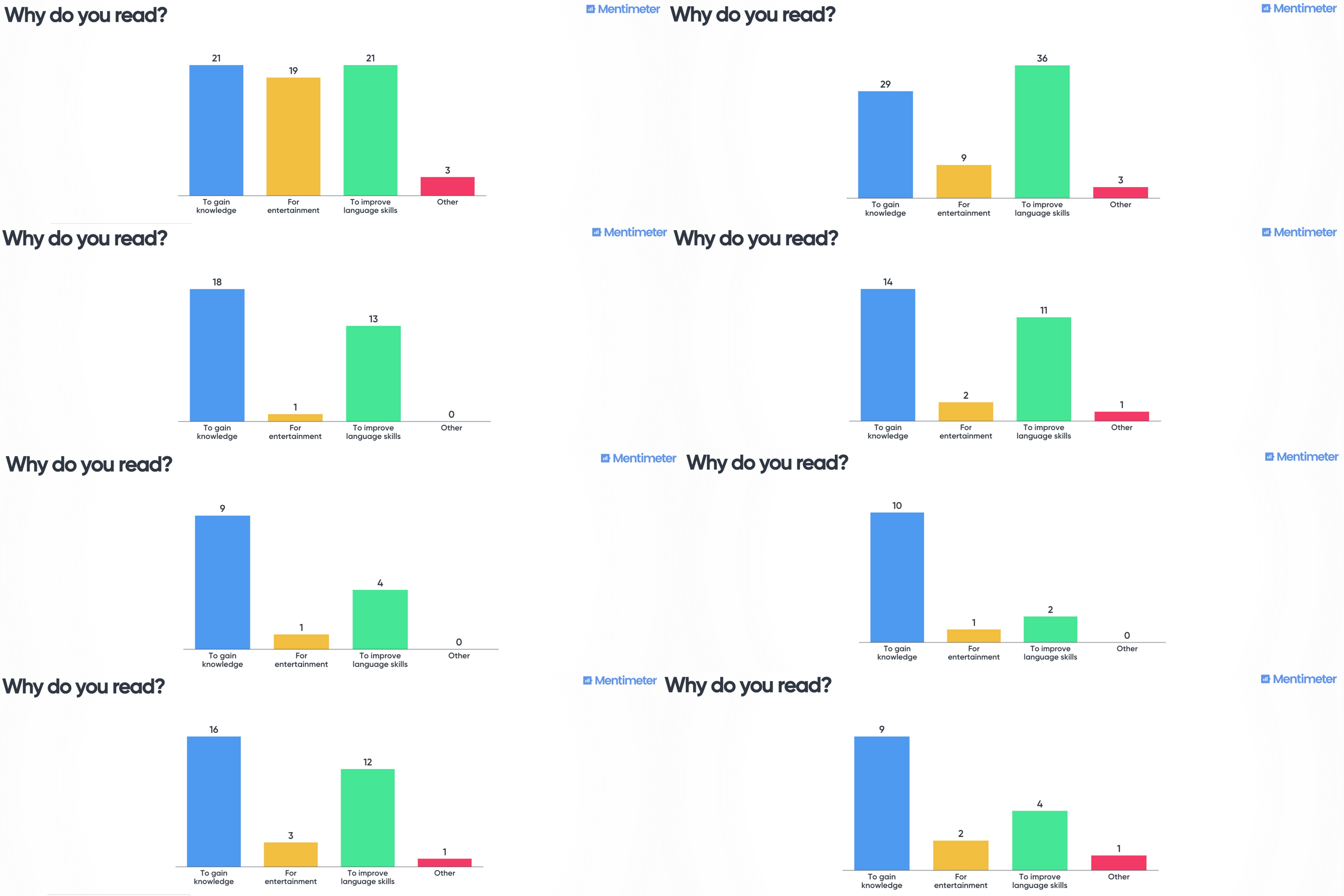 Here's a look at the combined data for this question.

We do have a small discussion, allowing participants to change their minds. But most don't want to. They feel that gaining knowledge and improving language skills are proper reasons to read.
So, where do we go from here?
I then go on to ask the adults if they want children to read. As an answer to this question, I always hear a unanimous 'yes'. Everyone wants children to read.
Why? The reasons are so clear above, aren't they? They'll gain knowledge! Their vocabulary will improve! Sentence structure will improve! Wasn't this what the whole polling activity led to?
Yes and no.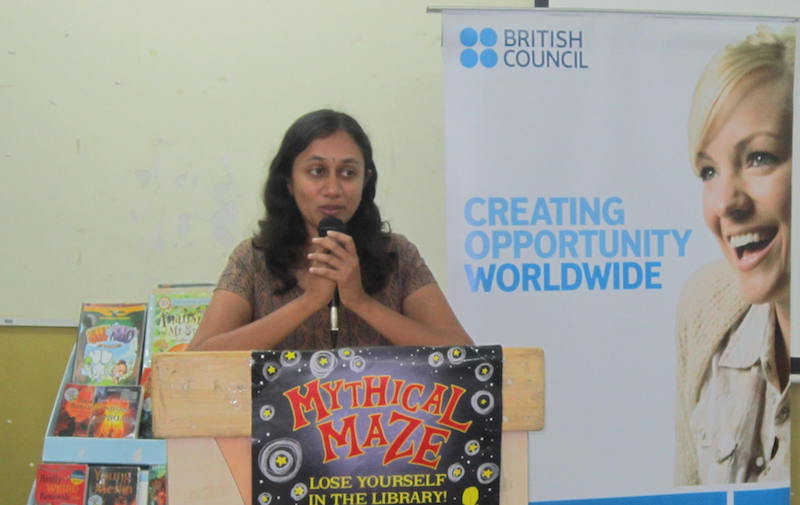 My point is simple. Children go to school. They usually go for a thousand classes after that – drawing class, singing class, tuition, skating, yoga … Each day of the week is devoted to something.
What do we tell children about why they should read? The graphs above show that gaining knowledge and improving language skills are the reasons that win hands down.
After school, dance class, guitar class, badminton class and all the rest, does a child really want to learn more? Does a child want more 'improvement'?
And that's why the reason to read needs to change if we honestly want children to read. If you read only to learn, you make the link 'Reading = Studying'. If reading=studying, I don't want to spend my spare time reading, sorry.
But if reading equals entertainment … There's something to think about.
Setting an example
The reason is as important as, if not more important than, the activity. Do you read? What do you read? Why do you read? When children learn by imitation, why would reading be any different?
If you read, they read.
If you read for pleasure, they read for pleasure.
If you don't have time to read because you don't make time to read, they don't have time to read because evidently it's not important enough to make time for it.
It's as simple as that.
Do we need graphs to prove that? Only if we don't already read for the joy of it.