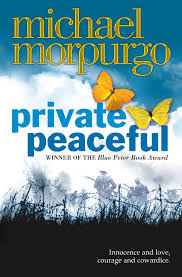 Charlie … Charlie … Charlie …
I want to meet you, get to know you, look up and admire you.
I wanted to sob my heart out when I finished reading Private Peaceful.
I wish I hadn't read it. It was so painful, so filled with a sense of injustice, so cruel.
I feel privileged to have read it. It was so moving, so human, so gentle and so filled with love.
My heart reached out to Tommo – who could have lived in Charlie's shadow, but never did. Instead, he basked in Charlie's glow. Tommo, little Tommo is so human. He tells his story without reserve, without embarrassment. He gets angry with someone he worships. He adores without restraint. He knows that Charlie is everyone's hero, not he, the little younger brother Tommo. And he basks in Charlie's glow.
It will take courage to read the book again. But I know I will. A powerful book like Private Peaceful churns out emotion from the very depth of my being.