What is Nayanabhinaya?
Divide the word and we get "Nayana" (eyes) and "Abhinaya" (loosely translated as expression).
The eyes are an essential part of Indian classical dance, and that is one of the reasons why they are highlighted with thick kohl. The eyes express emotion and create beauty.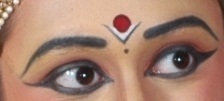 Learn the basics of Nayanabhinaya at our workshop on Abhinaya at The Cultural Centre.
Dates: 26th and 27th July, 2014
Time: 5 pm – 7 pm
Fee: Rs. 1,500
Visit the event page for more details.