When we introduce my teacher, we always talk about the prestigious Iyal Isai Nadagam award that she received. We have so many things to say about her, about countries she's toured and things she has achieved.
This time, we had the privilege of being present when Guru Mythili Raghavan received an award from the Pune Municipal Corporation – the Pandita Rohini Bhate Puraskar.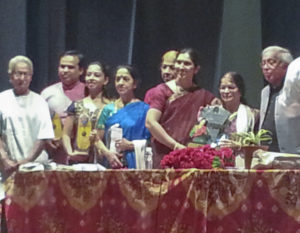 Hindi poet Ashok Vajpeyi was the chief guest, felicitating first Guru Prabhatai Marathe and then five other recipients of the award. Pune's mayor Chanchala Kodre came in late for the function and faced poet Ashok Vajpeyi's brilliant sarcasm with respect to the role of the government in promoting classical Indian dance and music.
Proud to be Guru Mythili Raghavan's student!