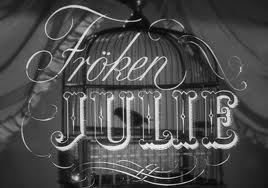 Outstanding.
To create passion like this and alternate between expressed passion and subdued passion is incredible.
Miss Julie – headstrong and confused – wavering between strength and weakness – is a work of art. You hate her and admire her. Above all, you pity her.
Or maybe not above all. There's no 'above all'. It's impossible to have a single emotion after a play as powerful as this one. A range of emotions rises and falls, leaving you almost breathless.
Then, there's Jean – another work of art. Power-hungry, ambitious, practical. When I think about it, a character like that ought to be unbelievable. Yet, he's not. He's wholly believable, wholly despicable – and wholly worthy of hateful admiration.
Christine – I wish I knew her. I wish she could just look at me with her grey eyes and hold my hand. Because then, the world could, perhaps, be good.