It is not that I have not been reading. As a matter of fact, I have been reading quite a bit.
I read A Beautiful Lie by Irfan Master and enjoyed it.
I read three of Dick King-Smith's Sophie books.
But nothing prompted me to write until this one – The Midnight Fox by Betsy Byars.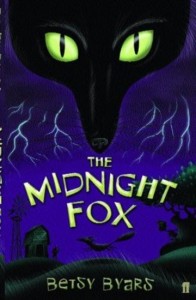 The Midnight Fox builds suspense so brilliantly that I had to keep taking time out to breathe a bit. I needed to know what happened next, but did not want to know.
With old books, I am usually pretty sure that somehow or the other, there will be a happily-ever-after ending. With this one, each page made me chew my lip and wonder and hope. I almost did not finish reading it simply because I was so afraid.
But I finished it and it filled me with a deep sense of grandeur.
The Midnight Fox showed me the wonder of things that are wild. Fierce love that lives in the face of danger, hope that survives even during moments of great despair, and the courage that makes us truly human – when a book combines all three in the simplest way possible, wonderful things emerge!