On the 15th of June 2006, I validated my second Eurail pass, officially valid for fifteen days. Maybe the official at the station was being nice; maybe he could not count. He marked the end date as the 30th of June, giving me 16 days of free travel.
Building up to my departure from Grenoble, we did many, many things.
I visited museums and churches.
We played children's games like 'Duck-Duck-Goose'.
I took a ride in an 'egg' – the ropeway up to the Bastille.
My sister was leaving Grenoble, perhaps never to return, so we filled our days with things she wanted to remember. And then, I left Grenoble for Lyon so she could say her last goodbyes alone.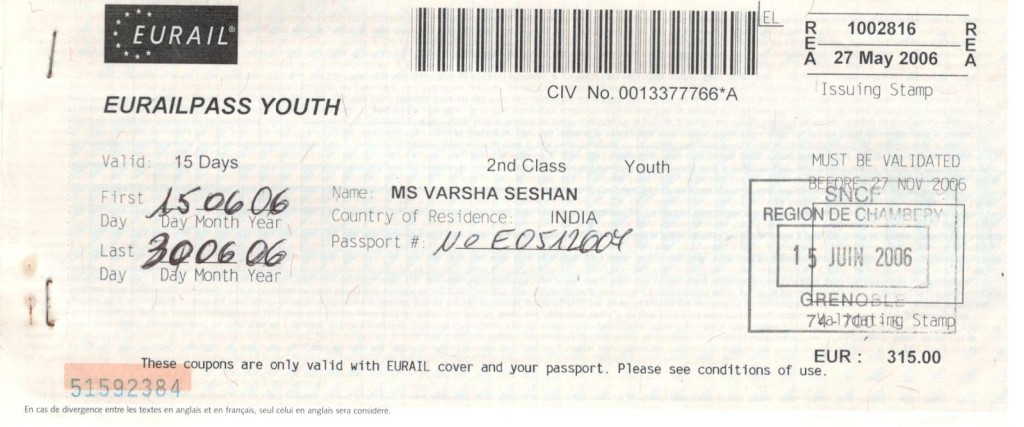 Lyon is a place to spend a lot of time or none at all.
Around the station, there are business hotels. Reach Lyon, and you get the impression that it is a no-nonsense, commercial place.
I'm an unabashed people-watcher, and I felt even the way people dressed meant business. No detailed makeup that you see in other parts of France; a touch of lipstick here, a touch of eye-liner there – that was all. Jeans and tiny sleeveless tops to cope with the heat; it doesn't matter if everyone is dressed in the same way.
Buildings and banks.
And right at the station, there are posh places to buy quick souvenirs from Lyon.
There are lots of museums in Lyon, but with just a few hours before my next train, I restricted myself to buying a map and walking around.
I was back at the station well in time for my train, and the situation was one of panic.
In India, trains are late all the time. It's no big deal when the train comes to the wrong platform at the last minute.
In Lyon, it was chaotic. Trains were late; people were angry about missing their connecting trains. The platform at which my train was to arrive was changed two minutes before the scheduled time of its departure. At the time that my train was to come, another one came instead.
My train came, finally, and I boarded.
Outside, people ran helter-skelter. They cried out to one another, and complained to railway officials. They asked passengers where the trains were headed.
I chuckled softly. India teaches you to cope well; that's for sure.