The Lit Bug Fest, Pune's own literary fest for children, was held yesterday, and I'm sure everyone who was there is still on a high. For me, just like last year, it was a delightful experience interacting with readers, talking about my books, sharing ideas, and even being interviewed by two child-journalists for My Paper!
The energy of a lit fest is unmatched. I kept sneaking away from the stall and attending bits and pieces of events, hovering on the outside sometimes, and sitting in at other times. Each session I attended was lovely!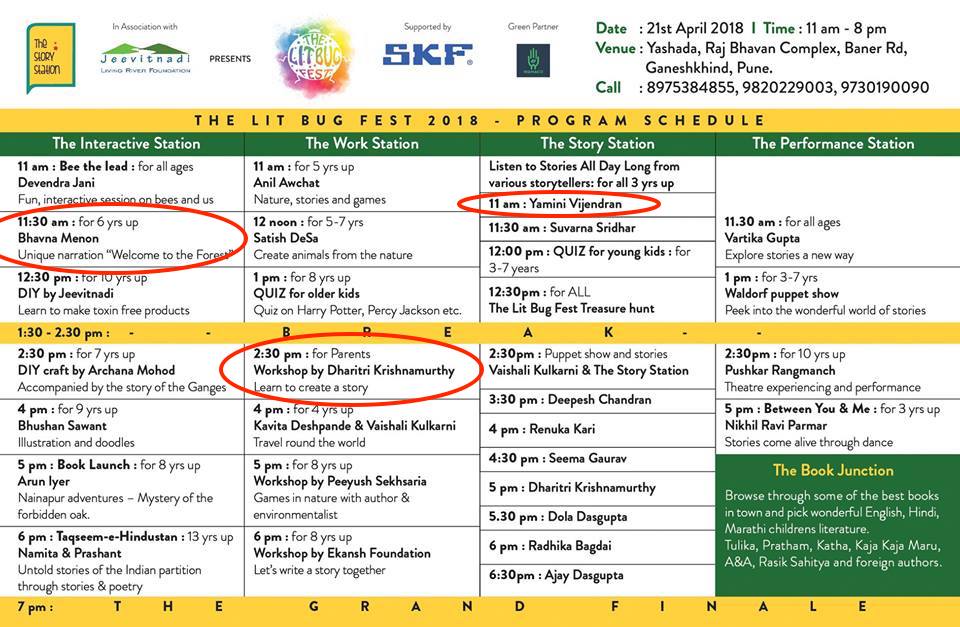 I began my day with a story with which I was familiar, retold by Yamini Vijendran. Using puppets and all the drama of her expressive voice and face, she drew us into the story, so much so that I didn't realise that she'd kept us engaged for half an hour!
I wanted very much to attend Bhavna Menon's session because I loved her book, Welcome to the Forest. It was as lovely as it promised to be, reminding me that I haven't visited a forest for over two years now!
And finally, my favourite event of the day – Dharithri Krishnamurthy's workshop on creating stories. Last year, I was blown away by the stories she told, and this year, she gave us a peek into what goes behind the stories. Best of all, I liked how she tweaks traditional stories to make them more empowering and give the girls, especially more agency!
I wish I could have attended more, but then, the stall was fun too, especially meeting children who have read my books and want more … I wanted to be everywhere, doing everything. I want a time-turner!