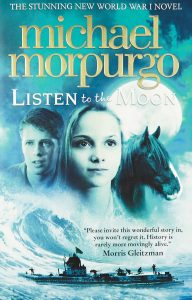 I keep saying that with Michael Morpurgo, you can't go wrong. Once more, with Listen to the Moon, I realised the truth of that. Had it been almost any other writer, I would have been daunted by the thickness of the book and the idea of beginning to read it when I know I'm busy. But Michael Morpurgo? Any day.
Another World War I novel, Listen to the Moon is set on the Isles of Scilly. We move from one time frame to another, and the two are just a few months apart. Merry MacIntyre tells part of the story. He father, a Canadian, is wounded in the war, and Merry and her mother are determined to travel across the Atlantic to be with him.
Through a third person narrator, though, we also discover Lucy Lost, a young girl who seems traumatised into silence, wet and shivering by herself on St. Helen's Island. Who is Lucy Lost and why won't she speak? With anti-German sentiment on the rise, things grow more complicated for her adoptive family, for soon the word gets out that Lucy was found with a blanket with the name 'Wilhelm' on it. Is she a Horrible Hun? If she's German, she's a spy!
The entwined narratives kept me reading and as always, I was moved by the overwhelming sense of kindness and empathy that so many characters display. Fierce Mary, or as her husband lovingly calls her, Marymoo, is a pacifist. She does not care if Lucy is German. But the rest of the town cares – and it cares enough to vandalise the house. How long can the family stand together with silent, trembling Lucy Lost?
A beautiful, heart-warming story of love and kindness in the most difficult of times, Listen to the Moon reminded me of all the wonderful Morpurgos I've read before – Private Peaceful, Kensuke's Kingdom, War Horse, An Eagle in the Snow, Running Wild … I can't even remember them all. This one is just as lovely.
| | |
| --- | --- |
| Title | Listen to the Moon |
| Author | Michael Morpurgo |
| Genre | Historical Fiction |
| Rating (out of 5) | 5 |
| Age-group | 11+ |