Recently (well, not recently really, but not long before the lockdown began), I did a letter-writing activity at a couple of workshops. I've always loved receiving letters. A letter in the mailbox with YOUR NAME on it? Ooh, the joy!
I wanted children to experience that too, and what better way than through a workshop? But the world has changed. I learned a lot through my letter-writing activity – including the fact that some children have been taught not to tell other people their address – ever!
I understand that, don't get me wrong, but I couldn't help thinking about the Pen Pals page in one of my favourite children's magazines, Sanctuary Cub. I have no idea if that page still exists, but the pen friends I made as a child were thanks to the magazine – which published my full name and address. I didn't think it at all dangerous then. Now, I wonder.
Pen friends are fun, so much fun. I remember my starry-eyed joy each time I received a letter and started to write one of my own. I remember the postcards, the inland letters (do my younger readers even know what that is?), the greeting cards – everything. I loved all of them, though I now wonder what I wrote in all my dozens (hundreds?) of letters. Did I really have so much to write about to someone I didn't know at all? I didn't even know how these pen friends of mine looked!
Taking out these letters and skimming them now, I see that many of them asked me for a photo; I have no idea whether I sent one to them, though I do know that I have no photos of theirs. The joy of a pen friend was that s/he was imaginary, for the most part. I've never looked for them on social media; I've never tried to reach out in later years.
My most regular correspondent was my pen friend Bhargav Saikia. He was the one who told me about Kaziranga, I remember, and made it a dream destination for me, one that I finally visited a few years ago. I could easily look him up; I know so much about him. I know what school he went to, what house he was in – even his roll number! We wrote to each other for several years, and then email came in. We were, initially, excited, and we sent many emails to each other too. Somehow, though, as with many other friends, the very ease of communication made the avid, excited writing fizzle out. We lost touch.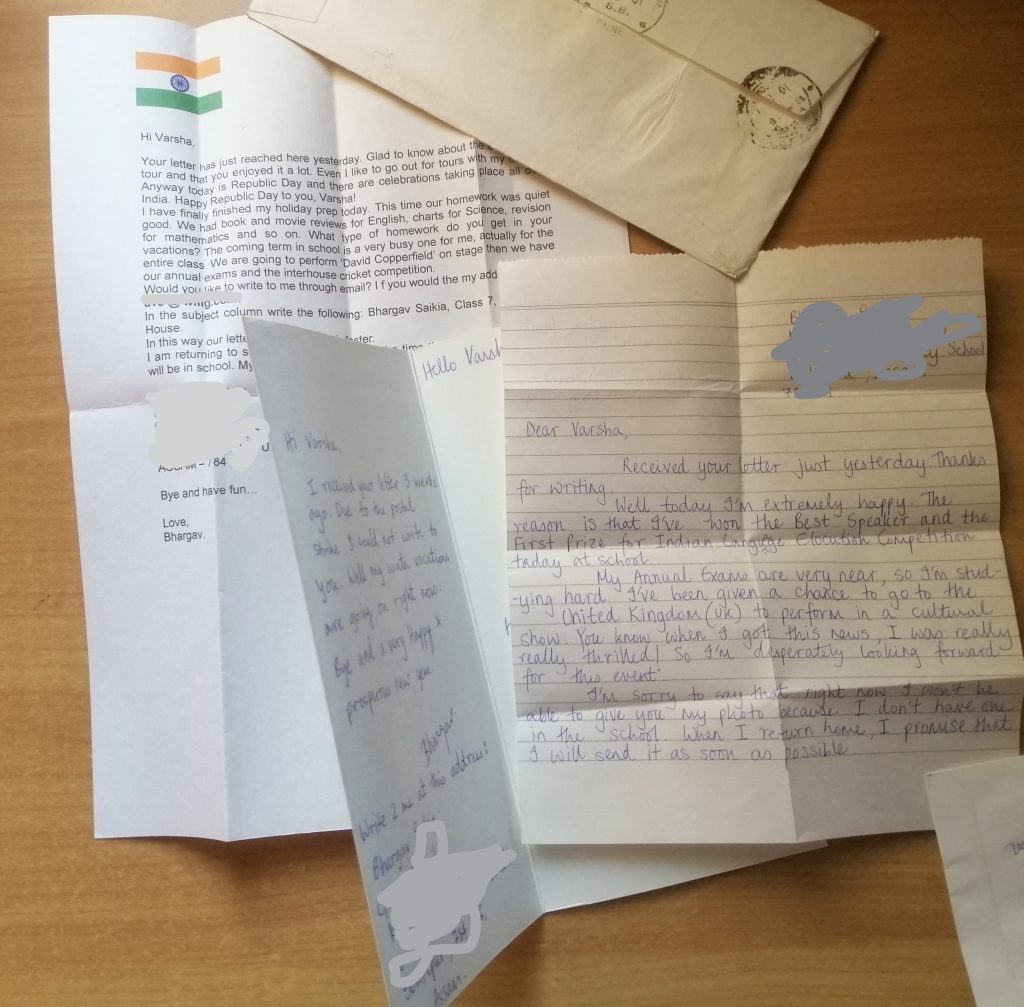 (Yet, Bhargav, if somehow, someday, you read this and you do remember all the letters we exchanged, do say hello!)
There were others – I don't remember all of them. I had a pen friend called Neha Karkhanis: I remember being drawn to her by her very first letter because she listed one of her hobbies as singing in the bathroom, and I found that incredibly funny. There were a couple from Mumbai, one from Odisha (then Orissa), and maybe others I've forgotten.
Those letters probably contributed a huge deal to the writer I am today, for what makes a writer a writer, except practice? I wrote pages and pages to them, so wherever you are, thank you. Pen friends are special, and I'm glad I had them. Is there a modern, 'safe' equivalent?