Have you ever had chicken pox? But more importantly, did you have a special friend to write letters to when you were quarantined?
My sister Nisha missed her sixth standard final exams because she had chicken pox. Right through those weeks, she was extra careful, taking precautions rather similar to the ones we're taking right now in times of Corona, though sanitiser was unheard of then. She didn't touch things I would touch; she sat in one sofa; our beds were socially distant (of course, we didn't think of it like that).
After my exams, after Nisha recovered, I got chicken pox too. I guess it was bound to happen. But during the weeks that I was at home, she would take letters from me to my bestest best friend every day. I had a little black book in which I would write my letter. My bestest friend would write in the same book and bring it back. And privacy was a core value at home, so Nisha never read the letters unless specifically told she could.
Perhaps writing to Richa, my soul sister, began there, with letters in that black book. I was nine then.
But even if they began there, they didn't stop there. We kept writing. We shared teenage angst and every emotion in the range of feelings that every adolescent experiences. Of course, we're older now, but privacy remains a core value and my teenage self (and hers) would not appreciate my sharing anything here. The emotions are perhaps practically universal – jealousy, love, anxiety, frustration, pain and deep, deep hurt. Those letters were part of our being. In some ways, they were my truest self.
And so, here's a non-revealing picture of things we wrote, and who we were and are.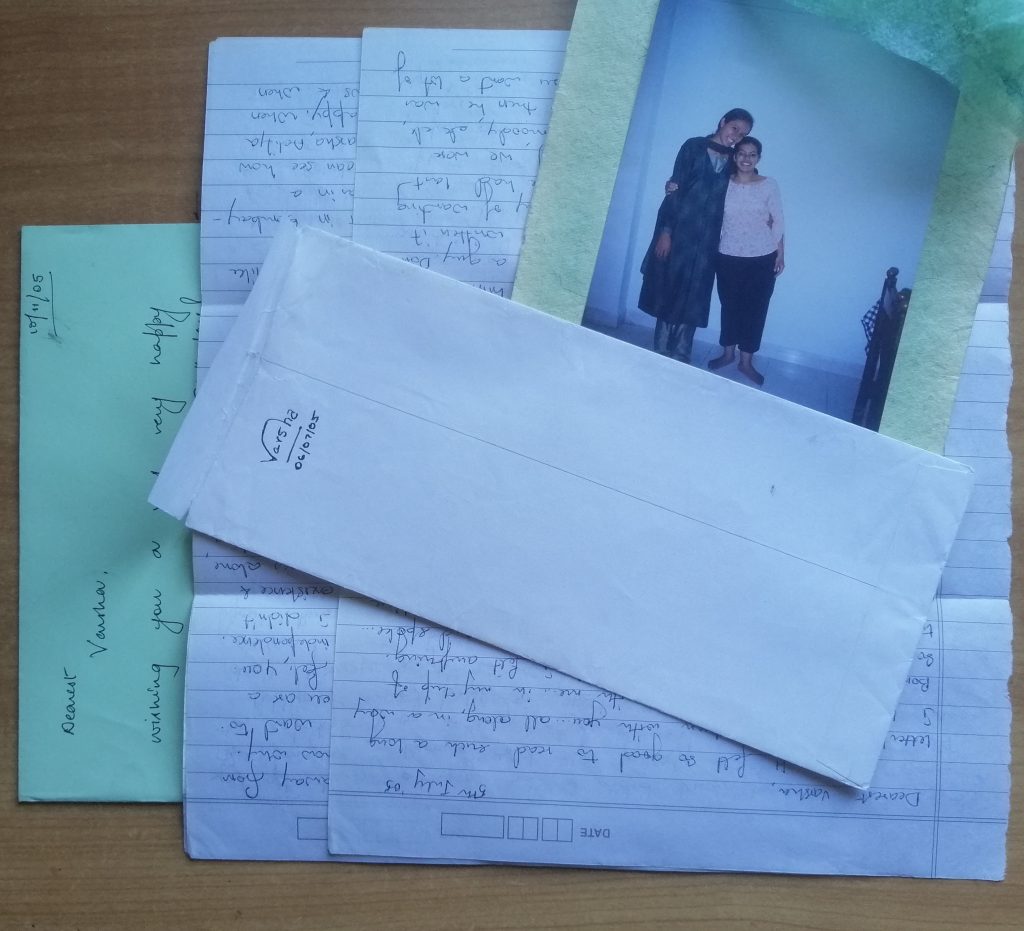 I do have my black chicken pox book too, with pictures that Richa drew for me. (May I also say here that my father made that book for me? With a credit card case and random pieces of paper.)
As always, for every three letters I wrote, I probably received one, so I cannot even imagine how many bags of letters my friends have. With Richa, hmm. We've known each other for 28 years, so that's a lot of letters to keep, even though I may never read them again because we aren't the same people any longer. Yet, a letter is a letter is a letter. It's for keeps. My drawer doesn't warn me that my storage space is almost full and that I should buy some more.