Once upon a time, we had a dial-up connection. I don't know if younger readers of my blog even know what that is. Email took ages to load. You could read a book while you waited for the connection to be established and then … Never mind.
For some reason, I had a usa (dot) net email id. They later made it a paid service, so I just stopped using that email address. I began to use rediffmail instead. It was modern and quite cool, but internet was still expensive, and I didn't yet know how to type. My sister Nisha and I were (and are) so close that we had hours of conversation that we needed to catch up on when we were apart. How could emails do?
Plus, as dancers, we needed more. Sending videos was impossible. I mean, who had digital cameras? And how could the internet be used to send videos? That was absurd.
So, the first time Nisha went to France and wanted to perform, I wrote out a dance for her in a text document. I (obviously) didn't waste precious internet by writing directly online. I mean, who could be so wasteful? I kept my text document ready (try writing a dance with no illustrations and you'll see how long it takes) so that I could copy-paste it into my email and send it to her. But audio cassettes – yes we were still using those – were expensive to send, so I don't remember what we eventually did.
That's just background history. But that's why we started writing letters. There was just so much to say, and of course, Skype and the others didn't exist. So we wrote. And wrote and wrote. These are just a few of the letters I've got from my sister.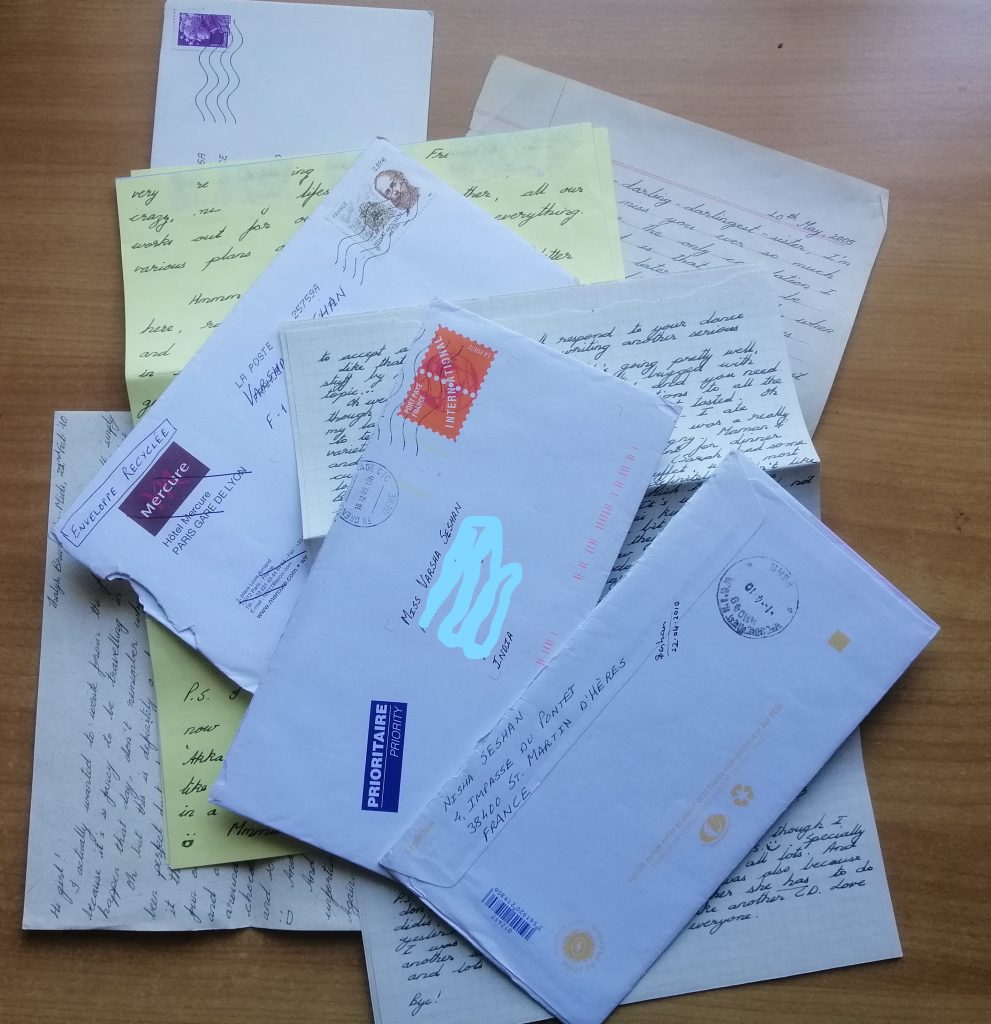 Even as the internet changed our lives, we continued to write because stationery is so pretty, isn't it? Our ways of writing changed – from closely written sheets (look at the one under the top two envelopes – that letter is six pages long), cramming everything we needed to say, to slightly more relaxed writing – the yellow sheets below. I guess this was one of the signs that we were growing up (though we continued to stick letters to the envelopes sometimes – look at the yellow letter). Every single letter brought joy. Sometimes, letters made me cry, both the writing and the reading of them.
And letters I receive continue to do that. I write letters to people I love all the time. Now that emails are much easier to send, I do write endless emails too to a few very dear friends. And I send postcards when I travel. Video calls are restricted to very few people, very, very few.
Oh, and WhatsApp? What's that?