Of late, I've been too busy to post updates about events I conduct, but here's a quick heads-up. I'm conducting a workshop at the British Library tomorrow!
Explore novel records that you can see yourself setting!
Work on all four language skills – reading, writing, listening and speaking.
Interact with other children with varied interests.
Reflect on everything you have read so far and why it interests you.
Most importantly, let's have some fun!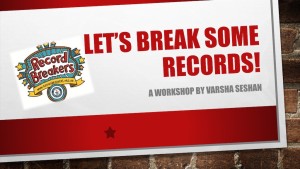 It's part of this year's Reading Challenge, but you're welcome to attend the workshop even if you aren't part of the challenge!
Here are the details:
Venue: British Library, Fergusson College Road, Pune
Date: 8th January, 2016
Age-group: 8-13 years
Time: 4pm to 6pm
Registration fee: Rs 600
Contact: Namrata – 020-41005327
Pre-registration is preferred, but if it is impossible, you're welcome to drop in fifteen minutes before the workshop begins to register.