We did our research before we went to Nagzira. We knew there were barely any tigers, but we also knew that many, many tourists saw a leopard in Nagzira. Surely, in eleven safaris, we would see one too.
The first, second, third, fourth (in Koka) and fifth safaris were over. We were restless. Much as we enjoyed each safari, we wanted something more. Something to write home about. I love bison. I love monkeys, deer and birds. I love trees and sunshine. But I wanted more.
In Nagzira, we often felt as if we were the only people in the forest. Unlike in Tadoba, we did not have constant communication with other guides about where the deer and langurs were calling out to one another. Often, I felt like we were lost souls wandering in the jungle: alone and without any sense of purpose.
We passed a rare car going in the opposite direction – and found what we wanted.
There he was. He emerged from the forest and sat on the road.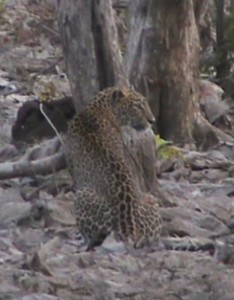 My first impression was of how small he was. "It's – it's like a cat!" I thought, stupidly.
Leopards are shy. This one did not want to sit on the road and be stared at. Quickly, he got up and made his way towards the trees.
We stood and watched. "Leopard," I whispered, my heart full. After three safaris in Kanha, three in Nagarhole, eight in Tadoba, three more in Tadoba – this was my first sight of a leopard. In the jungle, in his kingdom. I could not have asked for better.