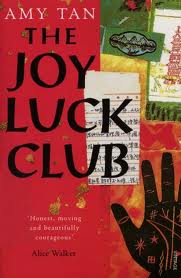 Amy Tan's The Joy Luck Club fits so perfectly under the heading 'unusual'. It's unusual in every way. The language is unusual. The structure is unusual. The name is unusual.
I love the idea of stories of motherhood, and I love stories that do not have a simplistic conclusion. Each story in this collection is the story of a mother and her daughter against a Chinese-American socio-cultural backdrop.
Mother and daughter struggle to fit in, while retaining a Chinese identity.
Mother and daughter speak a foreign tongue. Mother tries to curl her tongue around ideas that do not have their equivalent in the new language.
Daughter tries to achieve, tries to over-achieve, tries to find a place.
Mother wants the best for her daughter and tries to find the balance between two nations separated by an ocean.
Going back home to China means travelling westwards to reach the east. Of course the novel will be rich with paradoxes.