When I was asked to speak about Shakespeare at a gathering of school principals and English teachers, I was more than a little nervous.
I borrowed and read books; I watched DVDs about his life; I pulled out notes from my Master's course on Shakespeare … And I enjoyed myself thoroughly! Reading about Shakespeare again made me chuckle and wonder at the amount people have read and written about him. The interpretations people have come up with are amazing! From saying that he was (definitely) a moneylender to saying that he was a butcher's son who would make a speech while killing a calf, I read a range of stories, and that's why I decided to talk about just that – a few of the stories that make up the Shakespeare that we "know" today.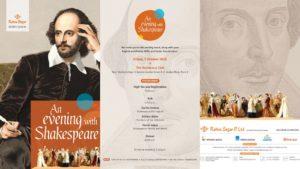 After my talk, Mr Sridhar Balan spoke about the First Folio, a delightful session that drew the audience in and explored Shakespeare's journey towards publication. We concluded with a wonderfully lively session conduced by author Pervin Saket, who spoke about his words and works, bringing alive Shakespeare's juicy  and imaginative insults!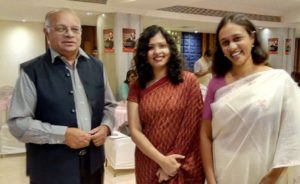 In Pune, I happened to be colour-coded with the venue. Needless to say, that was unplanned.

In Mumbai, I seem to have been a little colour-coded too, though I did not notice that. The number of people made me nervous, but that just added to the adrenalin rush!