We woke up at 4:30 this morning. This far east, it is not as early as it sounds to my Western Ghat friends. The sun rose soon after, and we stood at the window and watched the clouds.
We saw the Khangchendzonga. She played with us, hiding in the clouds and peeking out again.
We saw the other stunning mountains. Those picturesque peaks played with us too.
The sun glinted off the snowy slopes, almost blinding in its brightness.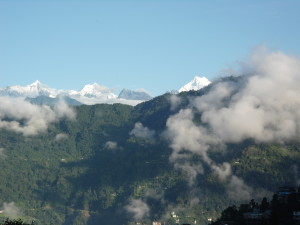 We said goodbye to the mountains, and before we left, the mountains said goodbye to us.
By six o clock, all we could see was the cloud cover.
No mountains, no snow, no blinding light.
Au revoir, Gangtok. I will come back. My head is full of happy memories; how can I not?