Yes, The Goldsmith's Daughter is the story of a girl restricted by her gender in a barbaric civilisation that is in conflict with another world with different beliefs.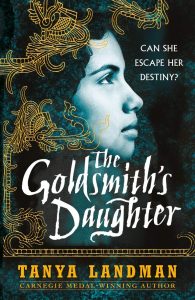 It is set in a moment in history when the Aztec civilisation must deal with Spanish invaders. The Aztecs need to accept that their emperor is, apparently, not the emperor of the world because there are people
with peculiar features coming from across the ocean to the Aztec world.
But I don't always find history fascinating. I don't typically spend hours researching and reading. And I knew next to nothing about the Aztecs when I began to read The Goldsmith's Daughter.
Tanya Landman made the story come alive. There was no judgement in the voice that told me the story of the bloodshed required to feed the superstition that the sun battled with darkness each night to emerge whole the next morning. There was horror and despair, but no condescension in the tone that spoke of the one who was to be the willing human sacrifice at the annual spring festival. I do not remember any of the names – of the gods, the emperor or the city – but the picture is alive in my mind. The fear of the people, the awe, the sense of a whole world being turned upside down … Each idea is tangible, vivid.
The Goldsmith's Daughter, the story of the young Itacate … I think it's a story I'll remember for a long time to come.