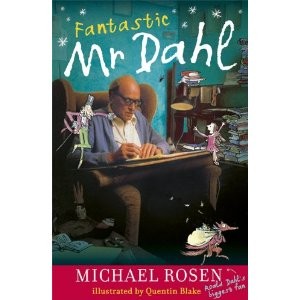 Yes, Mr Dahl is fantastic.
What I find interesting about Fantastic Mr Dahl, though, is the way in which Michael Rosen examines what makes him fantastic. Is it the fact that he used a special yellow pencil and special yellow paper (because his favourite colour was yellow)? Or because he loathed Christmas and loved Easter? Or because he had a lucky break when Disney was interested in making a movie of The Gremlins?
For me, Fantastic Mr Dahl kept shifting from wonderfully perceptive to  'Okay that's weird'. But in all, I finished with a sense of gladness that I had read the book.
I'm not fond of the word 'fan', but I guess I am a Roald Dahl fan.
And being a Roald Dahl fan, I lapped the book up and savoured it.