The cover of Dead Man's Cove, the first of the Laura Marlin Mysteries, has a snippet from a review, proclaiming that the book will delight Enid Blyton fans. And so, even though I read the second book, Kidnap in the Caribbean, some time ago, I began this one with different expectations. The most wonderful part was that those expectations were met.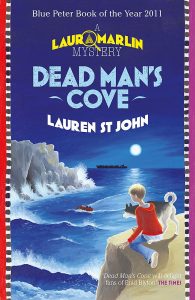 As a child, I was convinced that smugglers were exciting. Anyone who has read Five Go to Smuggler's Top and The Secret of Spiggy Holes will, I think, have similar responses.
Ooh! Smugglers! What fun!
Smugglers, for me, were equated with adventure. Even when people spoke to me of binoculars and cameras being smuggled into India, I had the same kind of starry-eyed reaction.
As a child who lived vicariously through books, Enid Blyton's stories came with a sense of security. However young I was, whether I was reading the Secret Seven series or Famous Five or Five Find-Outers, at the most thrilling moments in Blyton's stories, I was never really scared, for I knew that good would triumph over evil, and that the protagonists would save themselves.
Lauren St John's Laura Marlin Mysteries are no different. In Dead Man's Cove, we meet Laura's mysterious uncle Calvin Redfern for the first time. He is unfailingly kind, and he knows that the best things to give a frightened child are kindness, trust and cake. How can you not love an adult who knows that?
Though curious about him, Laura is determined to trust him the way he trusts her. Yet, when mysteries begin to pile up, she cannot stay idle.
She is sure there is more to her friend Tariq than meets the eye.
She cannot help mistrusting the housekeeper Mrs Webb.
And, inspired by her favourite fictional detective Matt Walker, she knows that gossipmongers like Mrs Crabtree do sometimes hold crucial clues …
For children who wonder what to read after the Enid Blyton mysteries are over, Laura Marlin is an answer. Without the gender stereotypes and dated references that are very much part of Blyton's books, these mysteries are a new kind of fun that echo the old.