I always tremble when I talk about my book. But somehow, today was just perfect. For once, I felt that the children simply loved the story and were still eager for more!
Today was a grand day.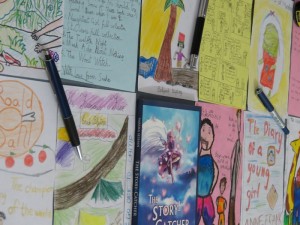 I bit my lip controlling my laughter as a child read a little excerpt he had written about writing letters.
About how he would write a letter.
His mother would write a letter.
His father would write a letter.
His friends would write letters too.
He ended the letter-writing spree with 'I love Geronimo Stilton'.
I didn't quite understand the link, somehow.
The children are wonderfully enthusiastic about everything I do with them! I made them write, make comics, listen, draw, colour… They were excited about everything!
The library wants me to conduct the workshop again during the holidays. I'm not yet looking forward to it – right now, I'm looking forward to two more sessions with this lovely group of children!