Every time I work with children, I realise how much I enjoy it! They are much more imaginative than others, and much less inhibited. When The Story Station asked me to conduct a writing session with children over the age of eight, I knew it would be fun.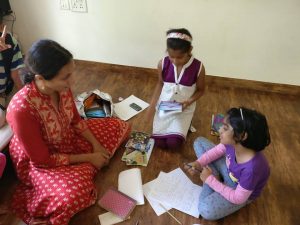 For me, the highlight of the session was the story "The Dictionary" from my The Story-Catcher. It's not the first time I'm working with this story, but it's fun each time. I told the story of ten-year-old Sana, off to visit her grandparents for her holidays. In her favourite room at her grandparents' place, the library, she discovers an old, old dictionary, in which she finds three letters. The first is from her great-grandfather, the second is from her grandfather, and the third is from her mother. They all begin with 'Dear Reader'. Charmed, Sana begins to write a letter of her own.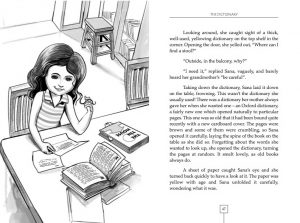 At this point, I ask the children to write letters that they would like to put into books for others to read. My host Vaishali was wonderfully enthusiastic. The children wrote letters that they hid in books all over The Story Station. Here's a glimpse of a couple of them. I wonder who'll find them, and how the story will go on!
With children writing imaginative letters, poems and stories, I had a perfectly delightful morning, and I look forward to many, many more workshops like this!