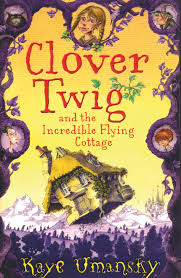 Clover Twig is a very tidy girl with very neat hair. She is very particular about things being clean and proper. She won't do anything she is told not to do. In other words, she has a little bit of an Obsessive Compulsive Disorder.
When Clover begins to work for the witch Mrs Eckles, she welcomes the challenge. But working with a witch is never easy, however nice the witch may be. Worst of all, good old Mrs Eckles has a nasty sister who wants to steal Mrs Eckles's cottage! It could all have been a nice domestic legal dispute if it hadn't been for the fact that 'stealing' the house in witch language is actually stealing the whole thing and taking it to Castle Coldiron.
When you try to summarise the story of Clover Twig and the Incredible Flying Cottage, it sounds incredibly like the kind of boring, outdated fairy tale that should have been lost to collective memory years ago, but it is not. Told with a zest that keeps you reading, with characters that walk out of the pages and talk to you, Clover Twig's story twists and turns fairy-tales to suit a modern child. The illustrations right through the book make it even better, helping your imagination along and allowing you to dream about the characters long after you close the book.
| | |
| --- | --- |
| Title | Clover Twig and the Incredible Flying Cottage |
| Author | Kaye Umansky |
| Genre | Magic |
| Rating out of 5 | 4 |
| Age-group | 7-10 |