Originally, before we left for Chambéry, we were told that we would be taught a bit. We were told we would actually have a real circus lesson. Of course we were excited! Story-books and circus smells ran through my imagination as I thought about it!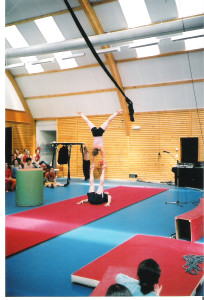 It was only when we got there that we realised that a lesson was not on the circus school's agenda. The artistes were practising for an upcoming event, so they could not waste time teaching over-excited novices.
We were disappointed, naturally. For many of us, I think the whole joy of the circus school was lost. But not for me.
Circus acts are like dance.
Nothing at the circus school reminded me even remotely of dear Mr Galliano or any of the others in Enid Blyton's circus stories. The artists were sweaty – something that Blyton never thought wise to mention, as far as I can remember. And everything at the school was much cleaner than I had ever imagined. No horses, no smell of dung, no smell of wet canvas. It was a disinfected, highly hygienic smell.
The circus artistes were not exotic people with adventurous and exciting lives. They were professionals, practising. There's a whole language there amongst the performers – a language of cues and action.
When I think back, things feel unfinished. I wonder if I'll go there again.