Making something delicious is uniquely delightful! I discovered that as a teenager when I used to beat batter well to get all those awkward emotions out of me.
It's wonderful what 3 eggs, 250 grams of chocolate, 250 grams of cream, 2 teaspoons of rum and a few spoons of sugar can make.
God bless the one who invented chocolate mousse.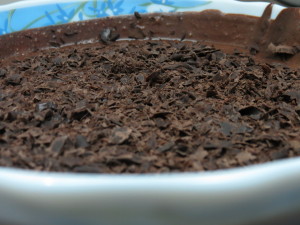 Oh, and I want to direct a special ray of gratitude to the one who made the recipe that I follow, which does not require the painstaking separating of eggs.
The makings were delicious. In just a while, I'll taste the finished product too. It's something I'm willing to postpone bedtime for.