I remember reading something by Diana Wynne-Jones a few years ago and not particularly enjoying it. I can't even remember which book it was. I don't know what made me pick up Charmed Life, but I'm so glad I did! Not only did I find a wonderful book, but I also found a list of books waiting to be read!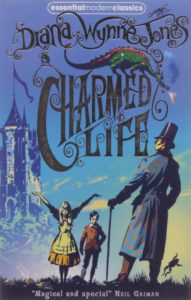 Gwendolen is a witch, and her younger brother Cat knows that. In fact, he thinks the only reason he is alive is that she is a witch who saved his life when he was drowning. Gwendolen is talented and ambitious, determined to rule the world. No one can stand in her way, not even the most powerful enchanter in her world.
On an aside, you could blame it on Enid Blyton's Malory Towers, but from the very beginning, I disliked Gwendolen. I hope that if I ever meet someone called Gwendolen, my impressions aren't as tinged with prejudice as they were when I started reading this book!
Coming back to Charmed Life, the thing about Gwendolen is that she is rather a powerful witch, with talents far beyond her age. And Cat, with no visible magical prowess, is left clinging on to her to survive in his parents' absence. Until Chrestomanci comes in and adopts them.
Twisting and turning, by turn thrilling and amusing, Charmed Life was a fantastic read. With its Related Worlds, it reminded me of The Many Worlds of Albie Bright, except that it's written from a totally magical point of view, without the quantum physics element.
And the absolutely joyous thing about the edition I read was that it was one of those books with extra bits – the book isn't over even when it's over! And Diana Wynne-Jones seems exactly the kind of person I would imagine her as from the story she's written!
Here's a sample:
Have you ever caused something magical to happen?
Oh yes. I was at an American convention where everyone was not only very unpleasant but also claimed to be witches …
I'm not going to put the entire answer here, but that's a promising beginning, isn't it?
| | |
| --- | --- |
| Title | Charmed Life |
| Author | Diana Wynne-Jones |
| Genre | Fantasy |
| Rating (out of 5) | 5 |
| Age-group | 9+ |