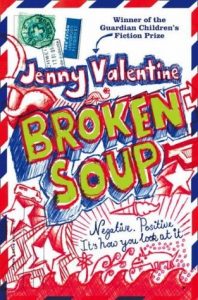 Unlike most other books that I pick up, the cover of Broken Soup did not attract me. But I've read and loved two other books by Jenny Valentine (The Ant Colony and Fire Colour One), so I borrowed this one – and, once more, I loved how the story was told.
Rowan's family falls apart when her brother Jack dies.
Jack was the kind of person who made a room more interesting when he stepped in and left people feeling a little deflated when he stepped away. He was funny, lively and charismatic – so much so that Rowan lived in his glow. She was his little sister.
But after he dies, something in the family seems to die too. Rowan's father leaves, and her mother sinks into a well of sadness. Rowan, all of 15, does not want to live with her father, so she takes responsibility for her little sister Stroma, and pretends both to her father and to the world at large that everything with their mother is okay.
When one day, seemingly by chance, Rowan finds a negative that Bee, someone from school whom she barely knows, offers to process for her, something new is sparked. The photo turns out to be a wonderful picture of Jack, who seems almost alive in the image. Rowan must find out more, and as she goes through a journey of discovery, her relationship with Bee blossoms, as does a special bond with the boy Harper, who gave her the negative in the first place.
Stories of warm relationships between sisters are always heartwarming, and Broken Soup is no exception. Even as Rowan takes care of little Stroma, she realises that Stroma, in her own way is helping her big sister heal too. When things slide downhill, Rowan has not just her sister Stroma to keep her grounded, but also Bee and Harper. Every character in the story is beautifully drawn, and as the story goes on, I grew to love them and care for them as if they were real, leaping out of the story and making me hope things would work out for the best.
| | |
| --- | --- |
| Title | Broken Soup |
| Author | Jenny Valentine |
| Genre | YA |
| Rating (out of 5) | 4.5 |
| Age-group | 12+ |